If there is one tigress who stands out from my latest trip to Ranthambhore in India, it's Arrowhead. Aside from being beautiful, (but let's face it, that's not a unique feature as all tigers are magnificent) she is also very photogenic and relaxed when in the company of only a few vehicles. She put on a real show for me this year, so I've done what comes naturally to human nature, and claimed some kind of special relationship with her, a wild animal.
My first sighting of Arrowhead was in zone 3, and came at the end of 3 hours of sitting in the baking 40 degrees sun, searching for tigers. My guide, Suri, had noticed a complete absence of spotted deer in the vicinity of the large lake (a standout feature of the landscape in zone 3) which she put down to the presence of a tiger as yet out of sight. After 1.5 hours and no movement, we drove off to check a few waterholes for any signs of life, and on finding none we made one last turn past the lake. As we pulled up, a hundred or so spotted deer took to flight, racing away from the tall grasses fringing the lake and splitting into 2 groups. 'Tiger, Tiger, Tiger!', the Ranthambhore catch-phrase assigned to the first glimpse of any striped cat. Out she flew, in hot pursuit, and eventually cornered one unfortunate deer in the shallow water. I sat open-mouthed in shock, not performing any particularly useful function as adrenalin coursed through my veins.
Once Arrowhead had a grip on the deer's neck, we raced around to the side of the lake and a better position, and photographed her as she finished off the job, and panting, dragged her prize toward the long grass.
How cliched to compare it to a wildlife documentary, but that's what it felt like as we told and retold the story to one another in excited whispers. The privilege of a small window into the life of this beautiful cat is priceless, and an added bonus was that we enjoyed most of the sighting completely alone, something rare in Ranthambhore!
Barely 24 hours later we again found Arrowhead relaxing at a waterhole in zone 4.
And 24 hours after that, she was wandering down the main road to the Fort.
And 24 hours after that?
It's early morning and then sun has not yet risen. Our vehicle has just descended the steep road into zone 2, and we're driving past some banyan trees when Suri's eagle eyes spot a tiger standing perfectly still on the road under an archway of trees. We back up, and see Arrowhead, head intently cocked toward a herd of deer who are grazing peacefully in the relative pre-sunrise cool.
We park off and wait, as she slowly begins to move silently toward a ridge which provides the perfect cover for her approach. Within 15 minutes, the herd has moved far too close for their own own good, oblivious to the waiting tigress. With an explosion of power she clears the ridge and charges at the herd. One fawn breaks away, essentially sealing its fate, and the skilled huntress wastes no time in claiming her prize.
Is watching death easy? No. Do I wish I hadn't witnessed these 2 kills? No.
This is nature; raw, sad, exhilarating. All I can do is document it as best as I can.
On our final afternoon in the park, we again saw Arrowhead, cooling off in a waterhole in zone 4. That's 5 sightings in 6 days of this cat, spread across her whole territory. Boy can she move around!
I'm not sure how to explain what photographing a wild tiger feels like, as I have serious doubt in my ability to do the explanation any justice.
These cats are magnificent - they have the richly coloured and patterned coat that's equal in beauty to a leopard's coat, yet are even bigger than a lion. It's a powerful combination - they blend in perfectly to their environment, melting away into the trees at a moments notice. They can run for around 3 minutes in a chase, which is incredible considering the muscular bulk they are moving around. And their eyes burn like fire in the sunlight, leaving an impression on you which you won't soon forget.
My Indian wildlife gallery has more images from Ranthambhore if you are interested.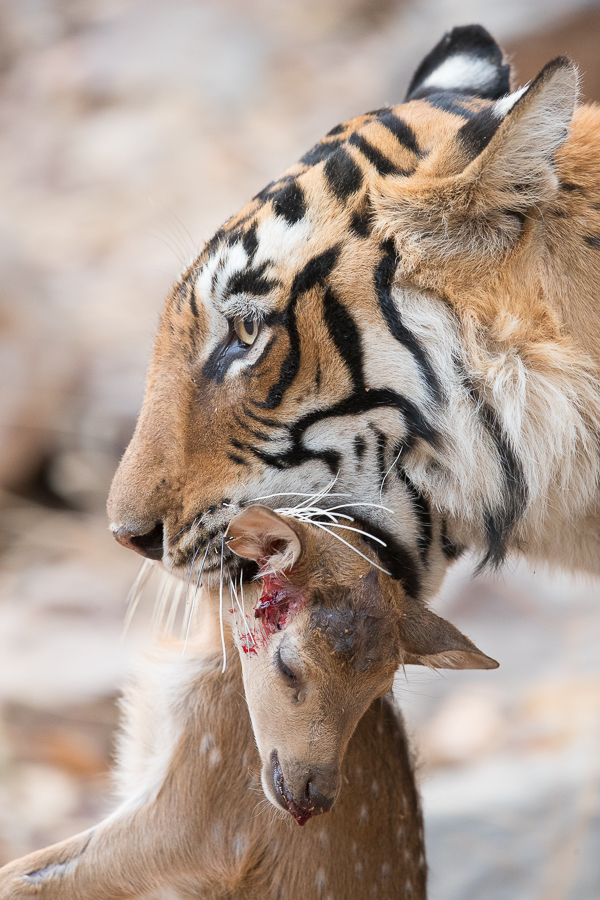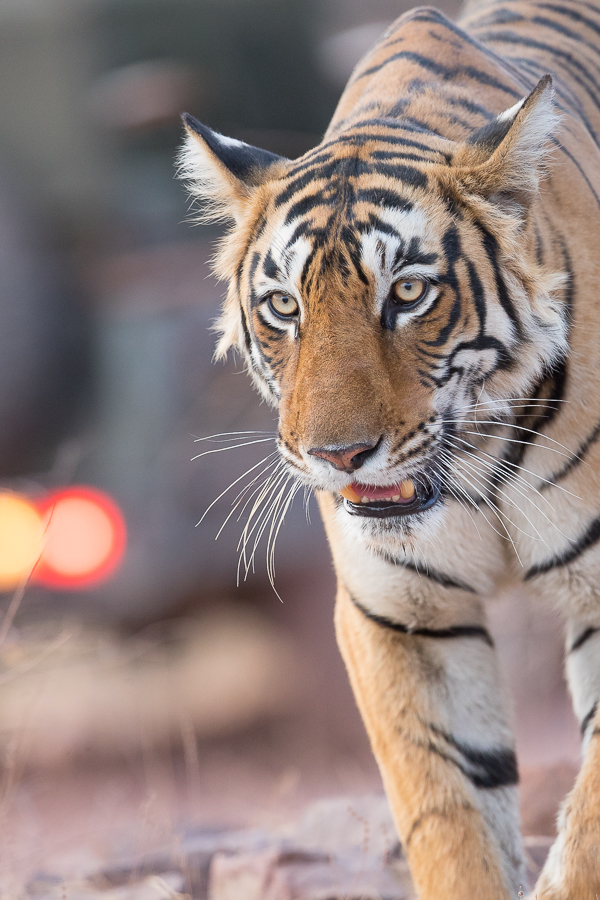 I have a lot to thank my amazing guide, Suraj Meena, for. She did an excellent job of both finding tigers, and getting me into prime positions for photographing them, as well as adding a wonderful dose of humour and fun into the long, hot hours of searching and waiting. Patience pays off, and without her and her guiding skills and attitude I would never have enjoyed the trip or had as much success with photography as I did. She is also the only female guide in a very male dominated field. I cannot recommend her highly enough, but more on that to follow.